Ederline Hydro Starts Generating
10th February 2014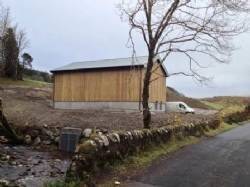 Gilkes Energy Ltd are delighted to announce that the Ederline Hydro Project started generating in January.
The 1.9MW project on the shores of Loch Awe, near the village of Ford, Argyll, is a joint venture "JV" between Gilkes Energy and the landowners, the Wilson family.
Planning permission and SEPA license were received in early 2011 and construction started in earnest in May 2012.
The project includes a dam and storage of water which ensures the project is generating at times of peak demand. The project is the largest project developed by Gilkes Energy to date and was delivered on time and budget despite some delays due to FiT policy uncertainty.
Commenting on the project, Carl Crompton of Gilkes Energy said "We are very pleased to have delivered this ambitious project on time and on budget. It is a larger and more complex project than average primarily due to the presence of the dam, multiple intakes and long grid connection. Financing too was far from simple as the project had to be structured to satisfy the demands of a number of investors and a debt provider. However, after almost five years of work we got there in the end and now have a commercial-scale project which has contributed to the local economy and employment. The project not only helps secure the financial viability of the farm for the next generation but contributes, in a modest way, to the fight against climate change by generating clean, renewable energy for the next 50-60 years. Thanks to all who contributed to this project".
The photograph above shows the project's powerhouse which houses the turbine and generator. It is a timber-clad building designed to fit in with the local architecture and landscape.
Click here for more information on the project including photographs of the construction phase.