CENTRIFUGAL - COMBINED JACKET WATER & LTA COOLING PUMP
Gilkes dual circuit pump systems establish a foothold in engine HHP applications 
An ever-increasing list of engine manufactures are opting to switch from a two-pump high and low temperature arrangement to a single Gilkes pump design.
Over the last 15 years Gilkes has provided bespoke designs for both new engine platforms and the upgrading of existing cooling circuits; satisfying customers' needs for reduced costs, higher levels of reliability, and increased efficiency. 
Our bespoke product development cycle allows engine manufacturers to tailor every aspect of the design to meet their ever-changing technical requirements, whilst using Gilkes' long established engineering expertise. The latest simulation software allows us to develop solutions for the most complex of space envelopes and duty requirements whilst also maximising performance.
Pump sealing options satisfy all customer header tank arrangements to maintain existing or preferred feed systems and pressures.  Our designs achieve the following:
Simplify engine design and construction
Reduce accessory drive equipment allowing greater PTO flexibility and availability
Reduce engine circuit pipework improving engine aesthetics and footprints.
Reduce parasitic load on engine increasing efficiency and fuel economy.
Maximise reliability through robust design evolution.
Reduce costs through product amalgamation.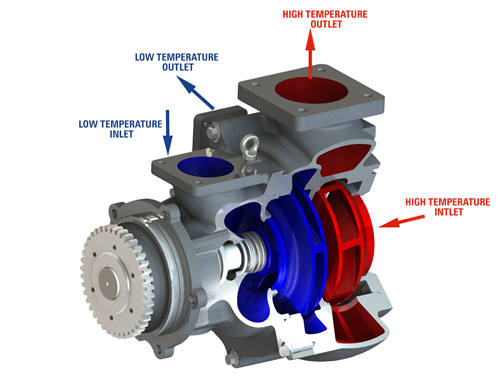 Dual circuit pumps offer unique benefits
Spaces and weight reduction
Cost advantages combining the HT & LT circuits into one pump
Lower parasitic engine loads
Simplified piping arrangements
Improved low temperature seal cooling
Function
Jacket water high temperature (HT) & low temperature (LT) twin circuit cooling.
Application
Marine, Power Gen, Mining, Oil & Gas, Rail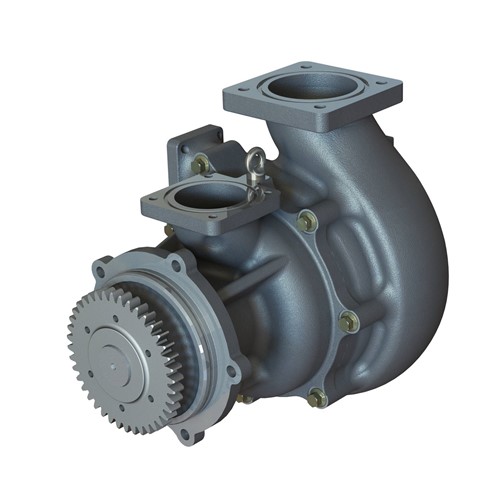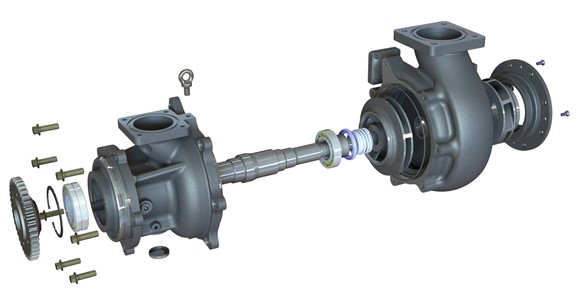 Contact Us
Contact our technical sales team to find out more about this range of pumps. Please use our contact form or call +44 (0)1539 720028
Contact Us