Hydro Electrical Packages
Gilkes' knowledge and experience provides you with the complete Hydroelectric Solution.
Cost effective package selection and flexibility of integration.
By their nature, all Hydro Electric Turbines need to be electrically connected to a grid or "load". Electrical Hardware is required to ensure the Turbine connection is made safely and the generated electricity is compatible with the grid voltage, current and frequency. Typically, the following Electrical Hardware may be required and are offered by Gilkes:
Power & Control Cabling – specification, installation, testing
Power Distribution Panels
Generator, Transformer & Grid Protection
Transformers
Switchgear
Switchyard Design
Gilkes Expertise:
International Safety Standards
Grid Code Compliance
NICEIC Registered Company
HV Trained Site Engineers
Site Installation, Testing and Inspection
System Design & Review
Plant Modernisation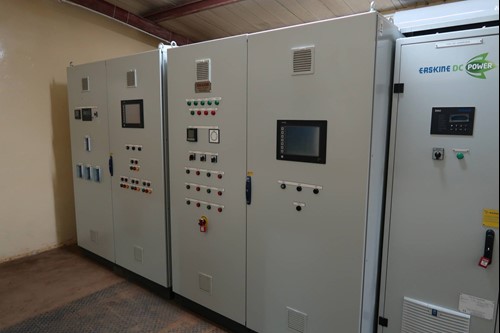 CONTROL SYSTEMS
Control and Protect your Asset whilst optimising generation.
With the know how from over 6800 turbines installed worldwide, be assured Gilkes will give you the control you need.
Linked to sensors that monitor the condition of the Turbine equipment, the Control System is the "brain" of the Hydroelectric Turbine. It sequences the starting and stopping of the Turbine and Ancillary Equipment and protects these items and the Grid to ensure safe and efficient running of the whole Scheme.
What we can offer:
Water to wire integration
Black Start and Island Generation
Island Mode / Grid Mode Transition
Multiple Turbine Management for optimum Production
Remote Monitoring
Performance Data (Hydroview)
Water management strategy
Interface with Process Plant SCADA
Upgrades for old (Plant Modernisation)
Gilkes Expertise:
Robust and durable hardware
Customised Solutions for your Application using proven Automation techniques
In house PLC Programming
Control Panel design
Integration of Electrical Package and Ancillary Systems