Refurbishment of Delta Creek Hydro
The City of King Cove in Alaska is a community of less than 1000 residents, located on the western end of the Alaskan Peninsula.  It is one of the largest Aleut communities in Alaska and is a progressive waterfront community with two harbours supporting a year-round fisheries economy. One of the state's largest fish processing operations, Peter Pan Seafoods, is located in King Cove.  The Community generates around 85% of its electricity from renewable sources, dramatically reducing its dependence on diesel.  
In 1994 Gilkes supplied a Twin Jet Turgo for the first of 2 hydroelectric facilities in the Delta Creek Valley.  This was the Delta Creek Hydro facility with an original power output of 834kW.  An additional hydro scheme called Waterfall Creek also came on line in May 2017.  Together these two hydros provide 85% of the annual 4.5MWh demand.  Since 1994, King Cove has been one of the most productive, micro-grid renewable energy communities in Alaska.
In 2021 Gilkes were approached by the customer to carry out some refurbishment work on the turbine.   The work was scheduled around the non-peak season and the Covid-19 pandemic travel restriction.  The work carried out at site by Gilkes engineers consisted of a replacement runner and other worn parts such as nozzles, spear rods, deflector plates etc.  
The City of King Cove invested $600,000 to rebuild the Glacier Creek spillway and install the new Delta Creek turbine runner and associated equipment, with a view to securing the future success of renewable energy in King Cove.
Key Stats
Original Install

1994

Refurbishment

2021

Power

834kW

Annual Energy

3.2 MWh

Turbine

Twin Jet Turgo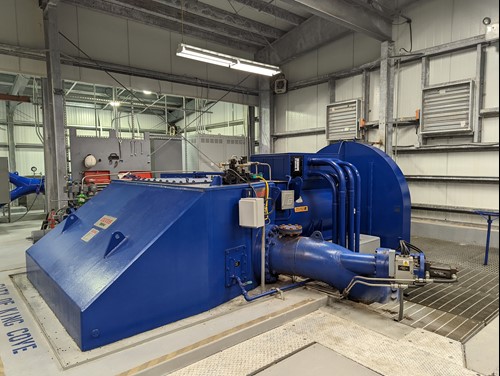 28 Years of Delta Creek Hydro
3.7 million gallons of diesel has been saved
$6 million in fuel cost savings
Savings used to pay $3.4 million debt costs
Saving King Cove households $1,000 per year
Advantages of the Turgo Turbine
Many of the challenging characteristics of the Delta Creek hydro project make the Turgo turbine the ideal solution.  
Remote location - The Turgo is designed for ease of operation and requires minimal maintenance, making it ideal for remote locations.
Glacier Creek - The simple and robust Turgo Impulse design provides reliable power generation even on water with heavy silt burdens.  The superior abrasion resistance gives a high tolerance to erosive particles in the water with no significant reduction in the efficiency.
Precipitation dependability - The Turgo design is particularly good at operating over a wide range of flows, making it well suited to run of river that is dependent on seasonal flow from rain, snow & melting glacier.


"The City of King Cove, Alaska is very pleased that Gilkes has played a major role in our community's renewable energy success for almost 3 decades now.  We look forward to this excellent relationship lasting for many more decades to come!"  Gary Hennigh, City of King Cove
with credit to the City of King Cove for contributing content and facts on the project.