Hydropower
Gilkes are the leading hydroelectric turbine manufacturer in the UK for projects up to 20MW
Related Pages
Streamline Turbine Range
Gilkes new Streamline range of Pelton turbines designed from the ground up for the sub-500kW market have been engineered to provide a rugged, efficient and reliable addition to our existing range of Pelton turbines.
The Gilkes Streamline range has been fully re-designed in-house using our high performance runners to maximise efficiency and at the same time to simplify the civils interface requirements synonymous with hydro schemes.
In developing the new Streamline range Gilkes engineers have prioritised longevity of service, reliability and whole life cost.
Utilising the latest Gilkes runner designs to optimise efficiency and provide a product
offering which is inline with the Gilkes brand, will maximise the return on investment for our customers.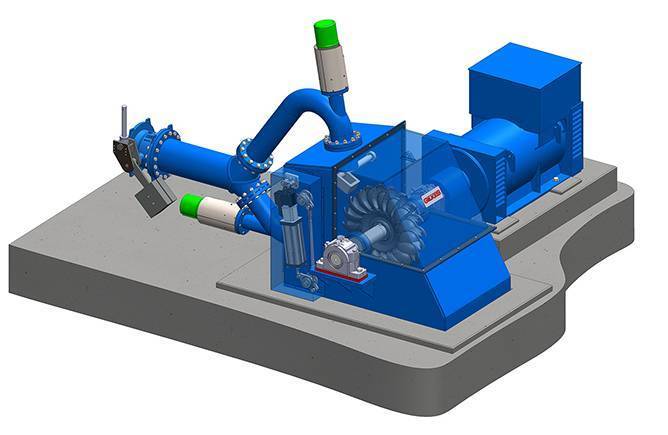 High grade stainless steel runner

SKF rolling element bearings

Hand holes in branch pipes for ease of maintenance

All above ground pipework for simplified powerhouse foundations

Electrically actuated spears

Fail safe to close, electrically actuated deflector

Hydraulically actuated, weight to close main inlet valve with dedicated power pack

Synchronous generator

Fully automatic control system with remote monitoring capability

Installation

Commissioning

2 year warranty

2 year bronze level service package
Full electrical installation

Tools

Hydraulic actuation of spears &

deflectors

MIV bypass

Induction generators & power factor correction

17" HMI

Dial in/out module control system
DESIGNED & BUILT IN THE UK