Engine Cooling Pumps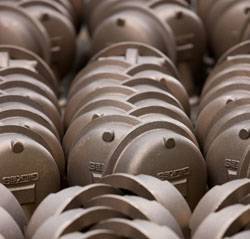 Gilkes develop and manufacture new pumps for cooling and lubrication of diesel engines and plant.
Pumps are designed, developed and manufactured at Kendal in the Lake District and refurbishment of engine cooling pumps is available through our American office, Gilkes Inc, Texas.
A specialist team of engineers and technicians are available to our worldwide clients, providing innovative solutions to mechanical and hydraulic design problems.
We offer the following services:
Bespoke mechanical & hydraulic cooling pump design
Design & production engineering
Pump design using the latest 3D solid modeling technology and finite element stress analysis
CFD used to fine tune designs
Onsite test facilities
Long term maintenance contracts and pump refurbishment facilities
Lubricating Oil Pumps
Feature double shrouded centrifugal impellers and are selected to achieve the highest efficiency andoptimum performance
Impellers are dynamically / statically balanced dependent on application and / or client's preference
Full mechanical / chemical analysis test certificates can be supplied
Gilkes have a 2400 US gallon test tank containing an ISO VG32 oil allowing pumps tobe fully performance tested if required. Including MOP (main oil pump) / BPT(booster pump turbine) closed loop performance test
Click here
to download our Engine Cooling Pumps Brochure.
Click the play button to watch the video...
Gilkes Service and Exchange Program
Click the play button to watch the video... Click here to download a PDF leaflet.