Great turnout for Frenich Open Day
30th September 2013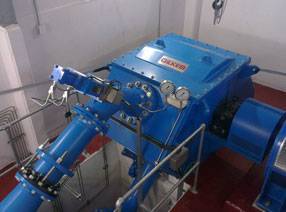 Gilkes would like to thank all our guests who registered and came along to our hydro site open day at Frenich, Pitlochry, Scotland last week. We had a fantastic turnout, with over 70 people attending the event.
The event attracted a variety of people wanting to take up the opportunity to see all aspects of a working run of river hydro installation.
The Frenich Hydro Project is a 730kW project on the shores of Loch Tummel, not far from Pitlochry, and is a joint venture between Gilkes Energy Ltd and the landowners, the McKerrow family.
John Pullen from Coneloch Renewables who attended the event commented: "Great open day, many thanks for the invite. Thanks to all the organisers. Frenich looks a very neat scheme."
For further information about this scheme please see our Frenich case study.
Gilkes will host another UK open day at a different site in Spring 2014. If you would like to be included on our mailing list for future events, please email hydro@gilkes.com