GILKES ENERGY EXPANDS TEAM AND MOVES INTO NEW LARGER OFFICE
14th April 2014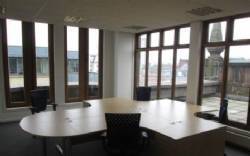 We are delighted to announce that Gilkes Energy has expanded the team further and moved to new larger office space in Glasgow.
As part of our next stage of growth we have recruited two new experienced members of staff; Kevin Dickson and Martin Hendry.
Kevin joined us in January in the position of Project Engineer, and will assist the Glasgow team with the project management and delivery of our growing pipeline of projects. Martin joins in the position of Lead CAD Technician, and takes responsibility for bringing this important design function in-house.
Gilkes Energy has also moved offices from their existing address, just down the road to Festival House, 177 West George Street, G2 2LB, Glasgow.
Commenting on the news, Gavin McGill, Technical Director of Gilkes Energy said "We are very pleased to announce the further expansion of Gilkes Energy, and welcome Kevin and Martin to the team. The two of them have significant experience in their respective fields, and together will help us deliver our ever-growing pipeline of hydro projects. By bringing the CAD function in-house we aim to improve our ability to deliver multiple projects in parallel. We have also outgrown our existing office after only one year. The new office at 177 West George Street is still based in central Glasgow and gives us plenty of room to grow further."