CONSTRUCTION STARTS ON NEATY HYDRO PROJECT
5th November 2013
Construction has started on the 700kW Neaty Hydro Project ...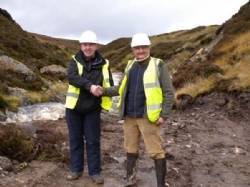 Frank Spencer-Nairn and Paul Healy of Bank of Scotland
Neaty Hydro is located on Culligran Estate in Glen Strathfarrar, less than one hour west of Inverness. Gilkes Energy Ltd, together with Frank Spencer-Nairn, the owner of Culligran Estate, and James Hair have formed a Joint Venture Company, Torrential Potential Ltd, to progress the project.
The project is a classic high-head, run-of-river design incorporating a single intake, high-pressure pipeline and Pelton turbine in a purpose built powerhouse. Planning permission and the SEPA CAR license were received in early 2012. After a detailed procurement and financial close process, construction started in earnest in August 2013.
Good weather in late summer has helped the completion of approximately 1.5km of access track and a few hundred metres of pipe installation by the end of October 2013. The scheme is planned to be operational by September 2014.
Commenting on the project, Frank Spencer-Nairn said "I'm thrilled work is now well underway and we have the security of financial close, with thanks to the Bank of Scotland. We have been working on this project for a number of years and it is very satisfying to finally see "diggers on the ground". There are lots of key elements to a project of this magnitude and I am happy to be working with the Gilkes Energy team, who are leading the design and project management function. This project is a major long term investment which has been thoroughly and professionally researched and designed and all parties are committed to ensuring its success, which will see rainfall in the Neaty catchment being used for the fourth time to generate electricity, with minimal additional environmental impact. I am pleased with the co-operation and good relations we have had throughout with the planners, SEPA, SNH and SSE. If the existing Hydro schemes in this glen and elsewhere had been structured to bring in an income for the estates, what a difference that would have made. This scheme hopefully will do just that!"
Commenting on the project, Fraser Allison of Gilkes Energy said "We are very pleased to have achieved financial close on this project. Construction is going well and if anything is a little ahead of schedule. This is the first project where Gilkes Energy has taken full technical design and project management responsibility, as well as being a partner in the joint venture. The project now has the certainty and confidence of both the Feed In Tariff and a fully-secured funding package so we can now concentrate fully on building the scheme. A big thank-you to all those who have worked so hard on the project so far."
The above photograph shows Frank Spencer-Nairn shaking hands on the deal with Paul Healy of Bank of Scotland at the end of the financial close process.
Click here for more information on the project including photographs of the construction phase.
For further information on Gilkes Energy Ltd and their projects, please see their website.